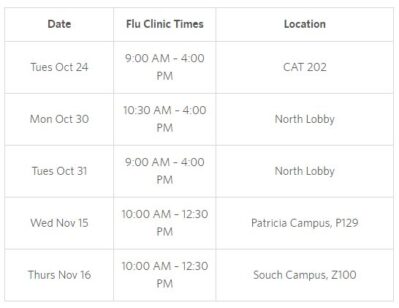 Free Flu Shots Across NAIT Campus
Flu season is here, and
NAIT is helping the cause
. NAIT is holding two flu shot clinics in the North Lobby on Monday October 30th from 10:30 AM to 4 PM, and Tuesday October 31st from 9 AM to 4 PM.
A clinic held earlier this month in the CAT Building saw over 300 people immunized. 


Supervisor of NAIT Health Services, Christine Bannerman, says students are at a higher risk of illness on campus. "Because students , right now, are getting towards exam time. Midterms exams. So students are staying up late, they probably not eating all that well, they're probably not testing because they're worried about exams. So your immune system is a little bit compromised. And when it's compromised, when something like the flu hits you, it'll hit you with a bang."


Students are also advised to cough into their elbows, wash their hands and if they feel  ill, to stay home if their program allows.


Photo Courtesy of NAIT
---
Comments